Best A5 Brochure Mockups PSD Free Download:
The purpose of a brochure is to make a long-lasting impression in the minds of a customer and lures them into the offers put up on the brochure. For
being able to persist as everlasting memory and deliver the idea of the product in the customer's mind, the brochure needs to be designed properly and improved with continuous feedbacks.
A5 Brochure Mockups PSD are the best way to understand the final look of the brochure as it is editable, customizable and fully layered vector file. These photorealistic PSD mockups are downloadable and help organizers present exact details of their preference of brochure.
Tri-Fold A5 Brochure Mock-up PSD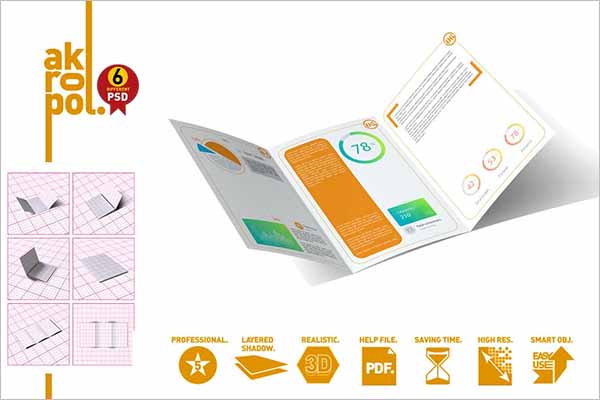 Full Layered PSD A5 Brochure Mockup


Fashion PSD A5 Brochure Mockup


Realistic Photo Magazine PSD A5 Brochure Mockup


PSD Photography Magazine A5  Brochure Mockup


Professional PSD Magazine A5 Brochure Mockup


Landscape Catalog PSD A5 Brochure Mockups


Bi-Fold PSD A5 Brochure Mockup


Adventure Magazine PSD A5 Brochure Mock Up


Cover Design  PSD A5 Brochure Mock-Up


Elegant Landscape PSD A5 Brochure  Mockup


A5 Brochure Mockups PSD


Sample PSD A5 Brochure Mockup


A5 Brochure Booklet PSD Mockups


Vintage Photography PSD A5 Brochure Mockup


PSD Beauty Magazine A5 Brochure Mockup


US Letter PSD A5 Brochure Mockups

A5 Brochure Mockup Template

Best A5 Brochure Mockup Design

Four Folded A5 Brochure Mockup Design

A5 Brochure Mockup PSD Template

Flat A5 Brochure Mockup Design

Clean A5 Brochure Mockup Design

A5 Trifold Brochure Mockup Template

A5 Brochure Mockup Landscape Design

Vertical A5 Brochure Mockup Design

A5 Landscape Brochure Mockup Template

Elegant A5 Brochure Mockup Design

Gate Fold A5 Brochure Mockup

Bi-fold A5 Brochure Mockup Template

Photorealistic A5 Brochure Mockup Design

Realistic A5 Brochure Mockup Template

Tri Fold A5 Brochure Mockup Design

A5 Booklet Mockup Design

Horizantal A5 Broucher Mockup Design

A5 Broucher Mockup Photoshop Design

A5 Broucher Mockup Design Template