Creative Desk Calendar Mockup Templates:
Whether you're trying to take your business off the ground or looking to get more customers for your small business,  Desk Calendar Mockup Templates Awareness is integral to your business' success. No matter what's your business model, there are umpteen ways to promote your brand. And amongst the many ways is the one you may never have thought of: Desk calendars.Creating a calendar with your logo or other information about your business can be an excellent way to promote your brand far and wide.
Desk Calendar Mockups:
Calendars allow you to promote your brand for 365-days a year without necessarily having to spend an arm and a leg. This is why Desk calendar mockup templates are so popular with companies. Creating calendars with your company's branding on them, be it design, logo, or whatever. Is an excellent way to basically get free, all year round marketing in (minus creation and distribution cost). A business calendar is 365-days reminder of your brand not only to the customers who receive the calendar but also to all their friends, family and acquaintances as well.
A calendar can serve as a highly effective visual piece of marketing collateral. You can use each month to showcase your products and services with distinct flavors and design. While the majority of people who will receive your calendar are likely to ignore your offerings. Many others will have their curiosity piqued. Again, not everyone who developed an interest in your brand will buy your products or services. But your calendar will inspire new customers to keep coming back to your business strengthening your brand.
Latest Desk Calendar Mockup Template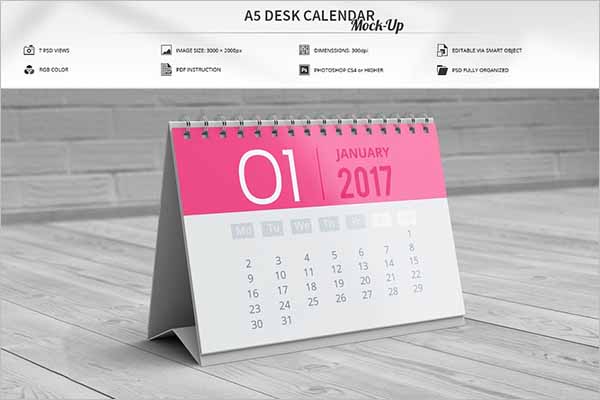 Desk Calendar Mockup Template

2018  Calendar Mockup Template

Free Desk Calendar Mockup Template

Vertical Desk Calendar Mockup Template

Desk Calendar Mockup Landscape Design

Awesome Desk Calendar Mockup Template

Realistic Desk Calendar Mockup Design

Best Desk Calendar Mockup Template

2018 Desk Calendar Mockup Template

Desk Calendar Mockup Free Template

Multipurpose Corporate Office Desk Calendar

Horizantal Desk Calendar Mockup Design

Realisitic Desk Calendar Mockup Template

Multiple Calendar Mockup Design

Modern Desk Calendar Mockup Template

Minimalistic Desk Calendar Mockup Design

Corporate Desk Calendar Template

Mockup Desk Calendar 2017 Template

Desk Calendar Mockup Bundle Template

Vertical Desk Calendar Mockup Design

Design Calendar Corporate Site

Desk Calendar Pack Mockup Design

Italian Holidays Desk Calendar Design

Desk Calendar Mockup Design Download

Clean Desk Calendar Mockup Template

Simple Desk Calendar Mockup Template

Modern Desk Calendar Mockup Design

A5 Desk Calendar Mockup Template

Hotel Background Desk Calendar Design

Professional Desk Calendar Mockup

A5 Portrait Desk Calendar Mockup

Desk Calendar Mockup Photoshop Template

Elegant Desk Calendar Mockup Design

Personal Design Desk Calendar

Corporate Desk Calendar Mockup

Photoshop Desk Calendar Mockup Template

Vintage Desk Calendar Mockup Design

Creative Mockup Desk Calendar Design

Business Desk calendar Mockup Design

Animated Desk Calendar Mockup

Vector Desk Calendar Mockup Design

Standalone Desk Calendar Design

Desk Calendar Mockup Design

Calendar Desk Mockup Template

Simple Desk Calendar Mockup Design

Simple Desk Calendar Template

Realistic Desk Calendar Template

Photo Realistic Desk Calendar Design

Design Desk Calendar Mockup

Classic Desk Calendar Template