Roses are red, violets are blue, we need to decorate our website for St. Valentine's Day… What about you? Enough poetry (or something that reminds of poetry) for today. There are much more important things that we should discuss today. The holiday that we have already mentioned is always associated with some romantic stuff. You know, boxes of chocolates, jewelry, bouquets, and many other things. It is a day when people celebrate love. There is one more thing that cannot be forgotten. We are talking about buying these very gifts.
Unfortunately, we cannot help those people who are bothered by finding gifts for their beloved ones. Yet if there are interested in web-design, we will eat our words. For the reason that this article will give you a chance to get familiar with assets developed especially for this holiday. If you want to give some air of romance to your online-project, you will find all the necessary things to realize this goal. If you want to create tailor-made cards or invitations, you will also get something interesting. Of course, if intend to give a digital present, there is something that you can definitely pay attention to.
We think that there is no need to speak more. There is one thing that should be done here and now. Let us feel this warm atmosphere of St. Valentine's Day and look through different lovely assets. We are pretty sure that all the materials included in this small collection will impress your imagination…
Valentine's Hearts Watercolor PNG Illustrations
It is time to decorate your online-projects with some elements that have something to do with St. Valentine's Day. We have a special package from MasterBundles for you that may have everything your soul wants in terms of holiday ornament. Here you are going to find 40 files that you can take advantage of to make everyone become impressed. A bunch of eye-catching materials that can be used for creating greeting cards, posters, invitations, quotes, and other things. Among them, you will get:
36 JPG files;
four PNG files.
If you look closer at these stunning illustrations, you will understand that all of them are highly-detailed. For this reason, it becomes possible to use them for patterns, frames, borders, and textures. Do you want to print these images? You can do it without any problems. It will be also easy to edit them in terms of colors, sizes, and so on and so forth.
Giftshop – Gift, Flower, Toy and Accessories Store WooCommerce Theme
An extremely elegant and impressive eCommerce theme that really deserves your attention. Its developers have collected everything you may need to create a first-rate online-store. You probably understand that your website should attract people who are searching for gifts, flowers, toys, and accessories. In this case, this ready-made solution can be called your perfect choice. Why do we claim like this? For one simple reason. It includes all essential tools to help you in building an online-shop that is capable of standing out from the crowd. Let us take a quick look at them to find out more:
a beautiful homepage layout;
lots of blog page variants like right and left sidebar, masonry, grid view, list view with small images and large images;
such product page layouts as horizontal thumbnail images, left and right thumbnail images, and extended column;
different types of the portfolio – a full portfolio description or images only;
fantastic category layouts as left and right sidebar, grid and list view, and sticky sidebar.
Lovely Monograms: 26 elements in 3 color variations
In order to come up with the most adorable invitations, cards, party printables, and branding, you certainly need to pay attention to this package. You will find here everything you need in order to win the hearts of your audience. Find out more about files included in this collection here and now.
What Does This Package Include?
The First Monogram Set:
26 items that are available in three color variations (pink, violet, and yellow);
all in individual PNG and three ESP10 set;
Size – 3000 px.
The Second Monogram Set:
26 excellent items;
all in individual PNG and three ESP10 set;
Size – 3000 px.
Bonus:
Five graphic items that will make it possible to grab even more attention.
Some Additional Files:
you can download links used in the package (.txt);
info on the color palette (.jpeg).
You should also notice that PNG-files have a transparent background. Those of EPS10-format are vector files. They can be edited in size. Open them in Adobe Illustrator.
Giftg – Gift Shop OpenCart Template
The Internet is overloaded with online-shops where people sell a wide range of products. Before holidays, there is one type of website that becomes extremely popular. If you are thinking about gifts now, you are completely right. There is one excellent ready-made solution that you can use in order to create an online-store of your own. This all-in-one-solution will provide you with a chance to start your business on the web. In addition to this, your step into the world of eCommerce will be more than successful. Thanks to a bunch of features that lots of people have already found very helpful. You need to find out more about them too right now.
Main Features:
one click installation;
a fully-responsive design;
cross-browser compatible;
product wishlist;
cloud zoom on the product detail page;
easy-to-use and customize;
multi-language functionality;
blog module;
currency integration;
product comment;
top-selling and latest products;
shopping cart dropdown.
Hearts and Arrows Valentines Clipart
There are lots of ways to decorate your online-project in honor of St. Valentine's Day. Yet we can provide you with the easiest one. We are talking about some typical hearts and arrows. If you think that they are going to have the most ordinary look ever, it is not true. All elements included in the package were hand-drawn. This means that they are completely unique. By means of them, it will be also possible to create eye-catching logos, cards, invitations, scrapbooking, wedding postcards, and so on and so forth. You will be certainly surprised by the final result. By the way, you need to know exactly what you will get.
What Are You Going to Get?
1 ZIP with 18 PNG and 18 JPG (with the same coloring on the transparent background);
all elements were painted on the watercolor paper;
have different sizes (from 100 x 100 px to 1200 x 1200 px);
are 300 dpi (and a watermark is not included in the files).
Dreamy Flora – Flower Shop MotoCMS Ecommerce Template
This template includes all the features you may expect from a top-of-the-line ready-made solution. You can choose it in order to start selling flowers on the web. It has lots of tools that will make it possible to customize your website according to your wishes. In such a way, your online-store will express your individuality and ideas. By the way, it is important to get familiar with a list of features included in the package. Let us present those ones that we consider to be the most important ones.
Main Features:
menu;
Google Maps to show whereabouts of your shop;
presets builder;
Google Web Fonts to provide people with readable heading and texts;
social options;
background options to engage more customers with an attractive-looking website;
carousel, slider, and grid gallery;
multi-language support to make your website popular all over the web;
audio and video integration;
contact form in order to make possible to get in touch with your team.
Love Story – Valentine Watercolor Kit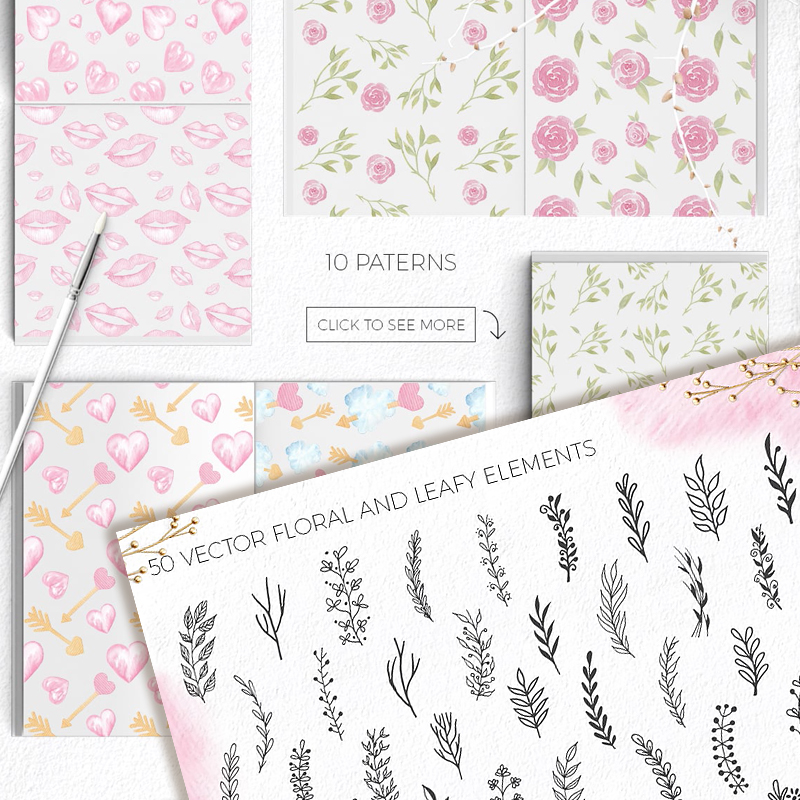 One more variant of watercolor illustrations designed for your next project. Do you want to create sumptuous posters, greeting and romantic cards, book or notebook covers, postcards, and quotes? There is a huge number of elements that you definitely to take advantage of. These patterns, decorative elements, and illustrations will catch the eye of every single person. Below you can find a list of all the elements that you are going to get.
Bouquet of Illustrations:
21 watercolor floral and leafy elements (isolated PNGs at 600 dpi);
9 watercolor subtle textures (isolated PNGs at 600 dpi);
50 vector heart-shaped wreaths (EPS + isolated PNGs);
8 watercolor couples (isolated PNGs at 600 dpi);
20 watercolor hearts and balloons (isolated PNGs at 600 dpi);
10 watercolor seamless patterns (isolated PNGs at 600 dpi);
50 vector wreaths (EPS + isolated PNGs);
30 watercolor decorative elements (isolated PNGs at 600 dpi);
50 vector floral and leafy elements (EPS + isolated PNGs).
100 Typography Logos and 100 Frames Bundle
Have you decided to get some typography logos? If you think that you will spend lots of time on your search, forget about this thought. We have an amazing set of typography logos with different styles. It does not matter what project you have in mind. You will find something that will fit its main concept in this small collection. What is more, you do not need to wander all over the web to search fonts that will create a suitable match. You will also have a chance to complete your typography logos with frames. As you can understand, your possibilities are almost endless. Let us explain to you what makes this package be so incredible.
What Does This Package Have?
100 typography logos:

Part 1: 50 typography logos for personal and commercial use
Part 2: 50 typography logos created mainly for personal use

100 logo frames
AL, EPS, and PSD-files (all of the are fully-layered and fully-editable)
CMYK color-mode
300 dpi
1 font list with links to download and some additional information
Mega Fonts – Bundle
You have never met such an excellent bundle of fonts. Among them, you are going to find fonts that cannot be compared to others. They can be easily used to make all possible online-projects stand out from the crowd. We created a small list of goals that you can achieve by means of these amazing typography options. Here are some of them:
logos;
signages;
labels;
wedding invitations;
posters;
badges;
T-shirt designs;
letterheads;
news;
headings;
signatures;
and many-many others.
Below we included names of all fonts that you will get. Even their names claim that you cannot pass by such a style and expression mixed in one single package. Believe us, it is impossible to use them and not get lots of fans.
Sobbers
Valdemar
Karenina
Soulmater
Constanta
Arkana
Elrotex
Roselowe
Sottafles
Morracle
Morning Wishes
Tristan
Rissa
Atora
Mornin Awesome
Wolf Reality
Wosser
Tycho
Jarvish Blurry
Bottle Massow
Passion
Asia Otasi
Zurich
However Store
Palm Brush
Stunning Red Tulips PNG Watercolor Set Illustration
These wildflower red tulips have already won hearts of many people all over the web. We are talking about both designers and viewers. If you are willing to play around with some unusual elements, this package can be called your perfect one. There are 72 files that you will find in this collection. This means that it will be no limit for your imagination. Take advantage of these aquarelle elements to create textures, patterns, borders, framers, and backgrounds. They are considered to be one of the most amazing choices if you desire to make a huge impression on people. By the way, you can also print them if you need. Do you want to make some edits in size and color aspects of these illustrations? It is completely no problem. Just open Adobe Photoshop and make all changes your soul wants. As you can understand, everything depends only on your taste.
Stunning Roses PNG Watercolor Set Illustration
Do you think that roses are better than tulips when it comes to St. Valentine's day? In this case, we have a great solution that you will be certainly satisfied with. We are hinting at this very pack that included lots of colorful roses to suit everyone's taste. They are fully-editable which means that you can easily work with its aspects as size or colors. Do not forget that you need to have Adobe Photoshop to do it. In general, there are 100 files that are going to impress your imagination. Among them, you will find multiple isolated images, patterns, borders, and frames. It is an obvious thing to say but you can use them in all possible projects. Wedding invitations, posters, quotes, greeting cards, and others… Do not lose your chance to make these creations become unforgettable. Make a decision to grab this watercolor set in order to show off your talent.
Free Printable Valentine's Day Tags
We have never seen such lovely and exciting St. Valentine's Day tags. When you look at them, you immediately start thinking about some romantic things. For this reason, it becomes completely impossible to pay attention to some other tags. If you desire to tell your beloved one about your feelings, consider using exactly this amazing asset. By the way, there are some of the titles that you find on these tags:
you are so special to me;
for you;
especially for you;
I love you;
be mine;
you are loved;
and some other sweet words.
There is no need to lose your time. Choose the most lovely illustrations, fonts, and other sweet stuff and start making your project look romantic here and now. Show your affection and make everyone do it too together with these assets. Thanks for reading!