The dusk settles in on the street. Street lights are turned on. However, there is one single lantern that blinks again and again. You decide to mend your pace. Stop, there are no earthly reasons for such an idea. There are already here. Witches, vampires, and ghosts. Do not try to escape them. For the reason that it is Halloween… You cannot hide from these huge crowds of children who are going to trick-or-treat each of us.
As you can understand, we want to celebrate Halloween here and now. Why would we try to scare you so much if it were not for the spookiest holiday ever?
It is time to watch the best horror movies. You can start to carve pumpkins and prepare your frightening costumes. Actually, why does Halloween manage to beat other holidays? Why do both children and adults adore partying on October 31? There are many reasons that can make you like Halloween even more.
We cannot imagine Halloween without some scary decorations.
You can taste many dishes and treat yourself with candies. Get ready to cook the most delicious pumpkin pies ever.
Do not forget about marvelous Halloween Music. What was the last time you had listened to Ghostbusters Theme Song? What about a famous Thriller by Michael Jackson? All of these songs and many others are waiting for you to listen to them.
You can also become anyone you want. Do you want to dress like the greatest villain? Do you want to conquer this greatest villain? In this case, become a superhero with some crazy abilities. Monsters, celebrities, and characters from the movies. You can choose every dress your soul wants.
Can we keep silent about horrific Halloween movies? Prepare to watch The Nightmare Before Christmas. Do not forget about Sleepy Hollow and The Addams Family.
The darkest season of the year is almost here. It is also a bone-chillingly amazing idea to add some spooky elements to your online-project. All your visitors certainly need a good scare. We have prepared something creepy for you. Our task for today is not to trick you. We want to treat you with spooktacular Halloween party graphics. You cannot imagine what is waiting for you below.
Have you been dreaming to get some Halloween animated clipart and Halloween vector graphics?
Maybe, you need a bunch of web design templates? Fortunately, all of them are waiting for you below.
Halloween comes just once a year. It seems that it is pointless to buy many digital decorations. Yet, it would be nice to make your online-projects a little bit scary. Halloween party graphics that depict various symbols connected with All Saints Day. Skulls, pumpkins, ravens, ghosts, and many others are necessary to be included on your website or printed project.
As you can understand, there are multiple components that you can incorporate. You cannot miss the best Halloween-inspired sets of graphics that can frighten every single soul. Together with them, you are free to set a spirited scene on your website. Such creepy-cool ideas will make your online-project stand out from the crowd.
Nothing will be more exciting than a proper eery design that will make everyone feel an amazing Halloween atmosphere. It is time to turn your online-project into something like a real haunted house with ghosts. To be honest, the only thing you can be scared these days is not having the most creative Halloween party graphics.
Anyway, do not forget to beware. Such graphics will make you wish it was already Halloween knocking on your door. Okay, choose something to your taste while we are busy hollowing out some pumpkins. We hope that you will enjoy our treats in the form of graphics.
Do not forget that something wicked this way will come soon and be careful while walking the street…
Halloween Pumpkin Logo Set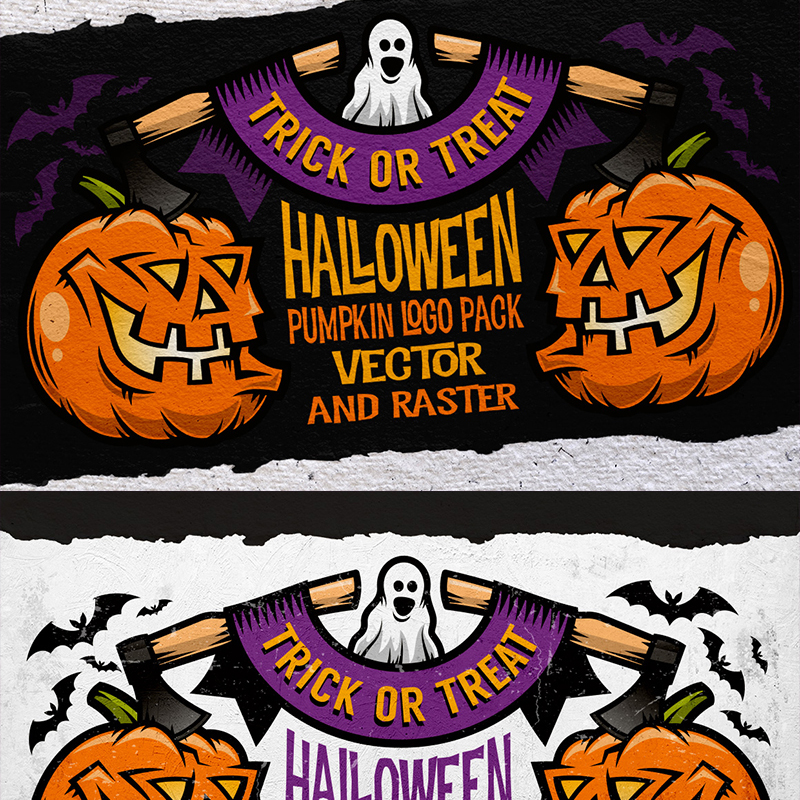 Halloween Logo Pack Illustration
Skull Party Print PNG Watercolor Set  Illustration
Halloween Pumpkin Engraving Style Illustration
Illustrative Halloween Icon Set Template
Halloween Stickers Pack: Trick or Treat Illustration
Halloween Grand Party Flyer Corporate Identity Template
42 Spooky Halloween Elements Illustration
Halloween Party Flyer Corporate Identity Template
Halloween Bigger Sale Flyer Corporate Identity Template
Creepy Head – Halloween Shop OpenCart Template
Halloween Store PrestaShop Theme
Halloween Costumes Shopify Theme
Entertainment Shopify Theme
Bogey Shop – Elegant Party Supplies Online Store Shopify Theme
Halloween PSD Template
Halloween Landing Page Template