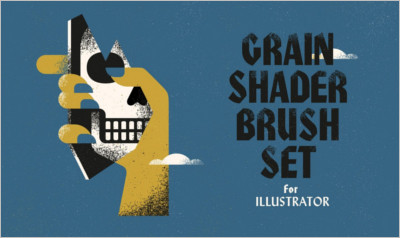 In stock
Grain Shader Brushes For Illustrator
$19.00
25 high-quality texture brushes:
10 x grainy overlay textures in .tiff format 4,000 x 19,000px each
10 x grainy overlay textures in .png format 4,000 x 19,000px
1 x detailed user guide with easy-to-follow instructions, and a 'Draw-Inside Mode how-to.
1 x brush thumbnail cheat sheet
KEY FEATURES:
Perfect for adding grainy drop shadows, blended gradients, gritty accents, and subtle grain overlay effects.
Pro-built from a diverse selection of authentic source-materials such as vintage paper samples, concrete, toner, ink spray, and sponged paint.
Sampled from meticulously vectorized high-resolution textures
Fully path-smoothed with unsightly sharp anchor points removed.
No obvious repetition, ghosting or cloning.
Multi-platform. Available for Photoshop, Illustrator and Procreate.
Includes bonus grainy overlay textures suitable for a diverse range of projects and styles.
<< MORE DOWNLOADS >>