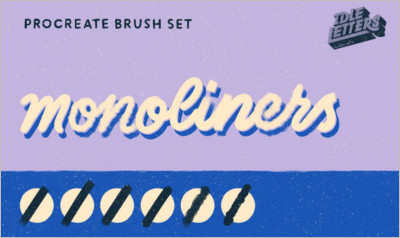 In stock
Monoliners Procreate Brush Set
$8.00
The Brushes Below is a quick summary of each brush included in the set:
Blocky – Square edge in a smooth and textured line. Works nicely for creating blockier letters or harsher casual scripts.
Blobby – Rounded edge in a smooth and textured line. Classic monoline brush that works perfectly for your script lettering.
Bobble – A jittery brush that creates a slightly off-kilter monoline effect. Works really nicely for simple mark making and patterns.
<< MORE DOWNLOADS >>
Monoliners Procreate Brush SetA set of 6 monoline brushes for Procreate. You'll find no variations in thickness here, just some simple same width strokes to help build your compositions. Similarly, create simple patterns or craft some beautiful script lettering.
You may also like