Creating a trifold brochure to promote your business was never so easy before. With our help, you can easily download and create the brochures of your choice to boost and promote your business. The Sample Vacation Brochure Templates are only a few of the thousand templates that you can find at your website. A brochure and a flyer the most cost efficient and effective modes of advertising for a product or a venture. However, unlike a flyer, a brochure is a bit more comprehensive and smart in its appeal, distributing more information in its pages. Mostly coming in a trifold format, the smart look of a brochure sends the message home. The sleek designs and the get up conveys a thousand words, and a crisp message with a bright image of your product or about your event takes it to the buyers much more easily.
The low-cost tool also helps you to function on a low budget scenario, especially if you are just beginning a venture. The Vacation Brochure Templates Free that you are spreading, advertising about the conducted tours of exotic vocational locations is best suited advertisable element by a brochure. The trifold segment ensures that the visual aspect, as well as adequate information, supplied in its sleek pages.
The brochures in our website can be easily downloaded and the elegant brochure designs make a mark and convince the customer in booking with your tour agency.The PSD aspect helps you to photoshop any image of your choice, boosting its already present easy customizable option for a more personalized experience. All the brochures are creatively designed.
Modern Vacation Brochure Templates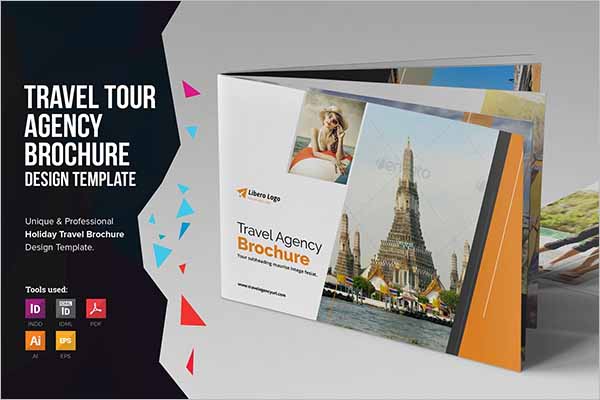 Promo Elegant Vocational Brochure

Small Business Brochure Design

Tri-Fold Paradise Vocational Brochure

Enticing Holiday Design Brochure

Prospectus World Travel Brochure

Ocean Blue Travel Brochure

Multipurpose-Business Vacation Brochure

Enticing Tourism Square Brochure

Exciting Travel Trifold Brochure

Chilling Holiday Travel Brochure

Catalog Tourist Invitation Brochure

Minimal Travel Brochure Design

Travel Beach Design Brochure

Tourist Invitation Brochure Design

Travel-Agency Catalog Design

Exotic Tourism Brochure Design

Amazing Layout Brochure Design

Creative Travel Agency Brochures