Best Realistic Bottle Mockup Templates:
Several surveys conducted across the globe revealed that most of us get tempted to try new things. That bear interesting and exciting label design, especially mineral waters, wines or soft drinks. That means the design and packaging of bottles has a major say in affecting or deterring the choices of people. When it comes to their drinks selection.Even the fondest lovers of popular drinks like coke and ice vodka love to see something interesting on their attractive Bottle Mockup. So, if the concept of label design can effectively be explored, it has all the potential of transforming your brand value beyond words.
Bottle Mockup Templates:
Bottle mockup templates are extremely important because they can make or break your product.If you wish to make your brand easily recognizable, acceptable and creative. Then it is important for you to maintain consistency of your theme across label design elements of your entire product range. So that even if an individual is looking at different variants of your products line, your brand is instantly recognizable from the kind of label it bears.
Themes are an excellent way of achieving this. And with numerous design templates available on the web. The process of creating your bottle labels in line with a particular theme is not at all difficult. Graphics is perhaps the most crucial element of your label design. As it increases the overall appeal of your products (bottles) manifold. Realistic photos and image illustrations of the ingredients. That have gone into the making of your products can be a good idea to work at. Especially if the kinds of drinks you serving flavored or organic ones.
Modern Beer Bottle Mockup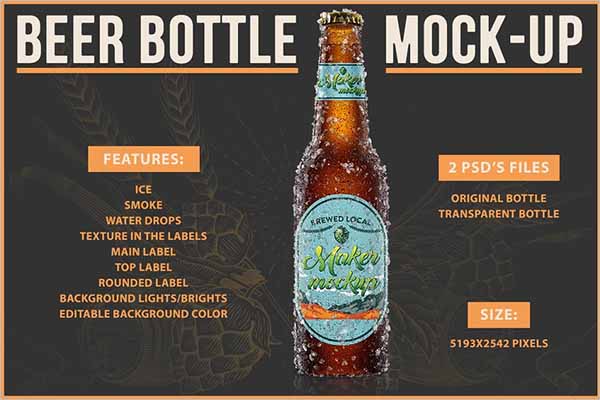 Reusable Water Bottle Mockup

Alcohol Bottle Design

Free Celebration Bottle Mockup

Beer Bottle Mockup

Growler Mock-Up Design

Free Sauce Bottle Mockup

Pharmacy Dropper Bottle Mockup

Printable Bottle Mockup PSD

Juice Bottle Mockup

Beer Bottles Mockup Template

Spray Bottles Mockup

Multiple Bottles Design PSD

White Wine Bottles Mockup

Liquor Bottle Design

Amber Pill Bottle Mockup

Mockup Bottle Design

Dropper Bottles Mockup Design

Water Bottle Packaging Design

Sliver Lid Bottle Design

Beauty Background Bottles Design

BBQ Sauce Bottle Mockup

Hygienic Beauty Brand Bottle

Milk Bottle Mockup

Beautiful Bottle Design Outlook

Different Cosmetic Mockup Bottles

Hyper Realistic Package Mock-Up

Professional Bottle Design

Cosmetic Mock-Up Printable Design

Pill Bottle Mock-Up PSD

Dropper Mockup Design PSD

Cylinder Bottle Mockup

Mineral Water Mockup Bottle

Tablet Bottles Mockup Design

Delicious Drink Mockup Design

Photo Realistic Cool Water Bottle

Label Mock-Up Design Outlook

Plastic Bottle Dropper Design

Blue Detergent Laundry Mockup

Champagne Bottle Mockup Template

Transparent Bottle Mockup

Jar Mock Up Template

3D Printed Water Bottle Design

Brown Bottle Mockup Template

Beverage Bottle Mock Up

Beer Glass Mockup

Whisky Bottle Mockup

Vodka Bottle Mockup

Elegant Bottle Mockup Design

Perfume Bottle Mockup Design

Soda Bottle Mockup

Photo Realistic Bottle Glass Mockup

Realistic Bottle Design

Sports Water Bottle Design

Bottle PSD Mockup Template

Plastic Cosmetic Pump Bottle

Supplement Bottle Design

Oil Mockup Bottle