Content overview: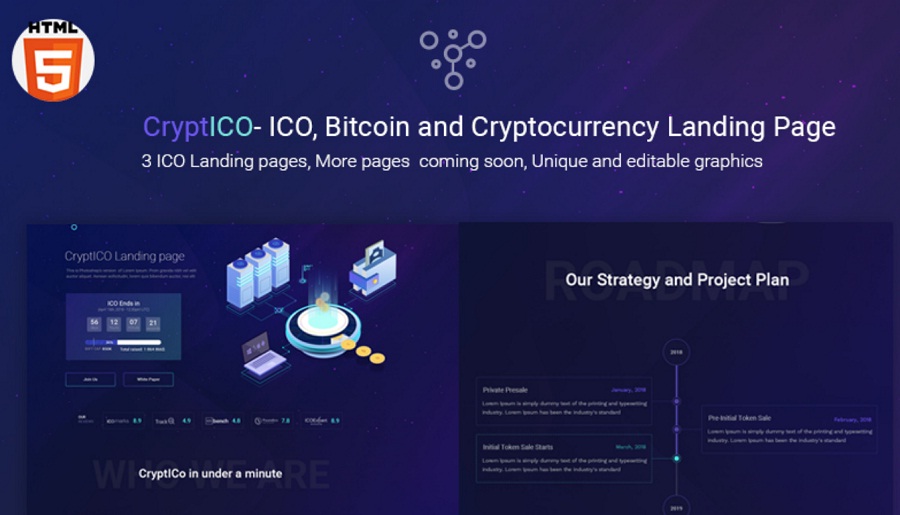 Nobody knew anything about cryptocurrency a decade ago. However this term has significantly penetrated to the web and finance world for the last several years. It is no secret that some people are winning huge income from the rise of this business nicheю. Chris Larsen's (Ripple's co-founder) crypto net profit accounts for about $8 billion while Ethereum's founder, Joseph Lubin's income is almost $5 billion. It's amazing, isn't it? There are of course those who have lost something because this venture is quite risky.
The term 'cryptocurrencies' has seized the digital market in the last few years. Did you know that Bitcoin's price rose from almost $1,000 to over $20,000 during 2017 (according to Finder.com stats)? It accounts for unbelievable 2,000% growth. Moreover, Bitcoin is one of the most popular cryptocurrencies worldwide. Almost 80% of global crypto holders have bought particularly this currency. If your business relates to this niche, you need to involve efficient ways to promote it. A clear and catchy landing page is an all-winning solution to boost your business in a short period of time.
Eye-Opening Stats about Efficiency of Landing Pages
A landing page is a specifically created web page to promote a product, service, business, or a particular marketing/advertising campaign. This digital tool allows entrepreneurs to:
considerably increase conversion rates;
create a targeted promotion;
stand out from the crowd in the market niche;
reach out to the targeted audience;
make a unique selling offer.
Due to WordStream's studies, landing pages have a great impact on boosting conversion rate:
Including various video information to landing pages can increase conversions up to 86%.
The more landing pages businesses have, the more leads they can generate. It's possible to reach 55% increase in leads when creating more pages by a half.
Companies with improved conversions are constantly testing their pages and use different methods to improve them.

CryptICO Landing Page: What's Inside
As the number of people involved in the cryptocurrency business has incredibly increased throughout the world, the need for effective landing pages is urgent as well. CryptICO can help to solve various problems and boost many finance projects. This elegant, fresh-faced landing page is designed to meet all the crucial requirements for any crypto-related online venture. Alongside a modern, attractive overall appearance, the page boasts fully-fledged functionality and impeccable performance. Working with its clean code is a real jam. You won't have difficulty with its installing and adapting to your needs. It supports the Bootstrap 4 framework and is powered by the newest cross-compatible technologies like CSS3 and HTML5. The page can perfectly flow on any device with any screen size.
This one-page solution has almost all features any homepage has. However, it allows an owner to place the unique selling proposition and pay visitors' attention to a marketing campaign. A home page gives a general idea of a business while a cryptocurrency  landing page helps to describe a specific business offer in a favorable manner.
Moreover, there are some changeable features.
Different Website Themes

CryptICO comes packed with a set of various themes including several dark and light styles:
Dark, Dark Animate, Dark Animate Particle;
Light, Light Animate, Light Animate Particle.
The Handy Color Switcher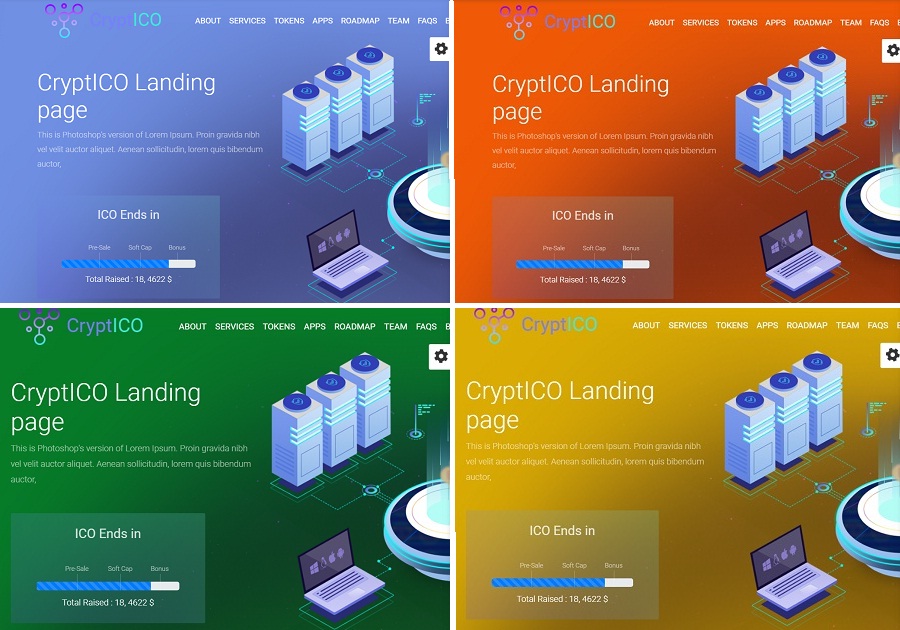 An owner has a great chance to change the background color palette and font color on the fly. What you need is just to click on one of the colors. It's a great opportunity to adapt the landing page to the overall website's look and business concept.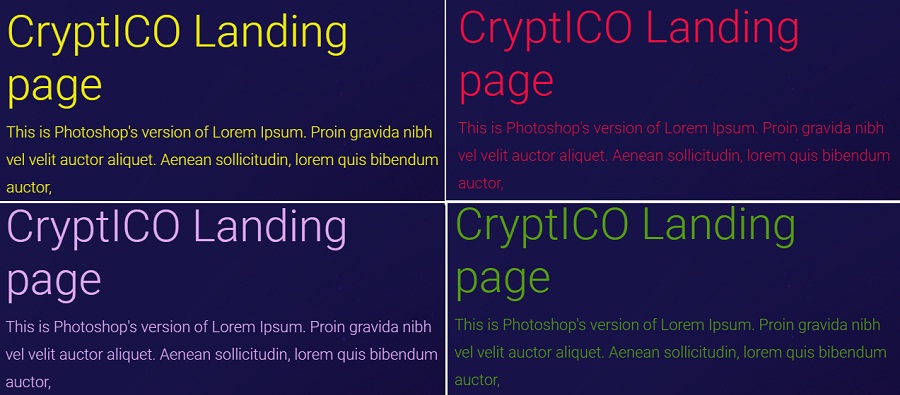 Why to Opt for CryptICO
There are tons of various landing pages but this one has undeniable advantages over the rest. The goal of CryptICO is to make the audience to act. To achieve this goal the landing page is packed with the following truly remarkable features and options:
an impressive, memorable design;
the flawless performance on all the possible mobile phones and other portable devices;
a truly visible CTA: a visitor can notice the main objective of the page at a glance;
catchy visual effects and pixel-perfect images throughout the page;
the effective Contact form including a subscription, social media proof, and other useful data for customers;
effortless compatibility with all the major browsers.
Those who are looking for a worry-free solution to promote your crypto offer can make use of CryptICO. This ready-made, the conversion-oriented landing page will definitely help you focus your audience's attention on the needed action. In addition to the visually appealing look, the template is packed with multiple usable elements. It provides with an intuitive interface and easy navigation. Users appreciate the simplicity and impeccable performance, which are the core features of CryptICO.
Are you looking for website design templates? Try Bitunet – new Cryptocurrency WordPress Theme  This theme will open up new opportunities your cryptocurrency business.